Tower of Babel
Literature of Ethnic Minorities in the Czech Republic and in Norway 2021/23
The project Tower of Babel is devoted to literary production of minority cultures in the Czech Republic, Roma, Vietnamese, Ruthenian, and their position in the majority society. Co-operation with Norwegian minority literature associations will make it possible to compare the situation in the Czech Republic and Norway. The project aims at promoting the culture of minorities in the Czech Republic which is an important factor in the social wellbeing of these minorities in society. At the same time, it is the objective to introduce this culture to the Czech public which has vague ideas about the life of minorities without realizing that beyond the horizon of its interests, there are distinctive cultures that can enrich the majority society. Through a series of literary evenings, literature works by authors from the cultural minorities associated with the Czech environment will be presented to the Czech public, with the overall topic being the reflection of the Czech majority in the minority cultures. Interdisciplinary art events – literary evenings – will be complemented with workshops, conference and discussions. The project will culminate at the Festival of Minority Cultures, where project creators will meet. The results of the activities will be published in five thematic issues of the literary magazine Babylon. Three issues will focus on the three minority literatures in the Czech Republic, while one issue will be devoted to the literary work of Norwegian minorities, Sami and Roma, and one will summarize the results of the project. The final output will be a book by writer Petr Placák which will be composed of interviews with minority authors living in the Czech Republic and revolve around their relationship with the majority society. The interviews will be supplemented with works by minority authors. The topic will be confronted with interviews and examples from works of Norwegian minority authors, including their relationship with the majority society.
Most of the activities will take place in the capital city of Prague, literary events will use the premises and cooperation provided by the Václav Havel Library. The artistic events, attended by Norwegian writers representing Norwegian ethnic minorities, will be held at the DOX Center for Contemporary Art. The closing artistic ceremony of the Minority Culture Festival will take place at DOX as well. The project will include several trips to the so-called socially excluded localities of northern Bohemia and northern Moravia (Most, Teplice, Ostrava, Ústí nad Labem) as well as to the Karlovy Vary Region or Písnice, where Vietnamese community is concentrated. Thematic issues of the literary magazine Babylon will be distributed throughout Czech universities, and the book will be available through the Kosmas distribution network in bookstores all over the Czech Republic. During the project, a trip to Norway will be organized, where meetings with partners will take place, and interviews with authors from minority cultures will be held.
One of the main problems of modern civilization is the atomisation of society, the breaking of the social ties that formed for generations, and the uprootedness associated with it. Minority cultures are primarily at risk of this development.
The promotion of the diversity of views, contents, and traditions is the basis of the functioning of an open society and a prerequisite for its successful functioning; it is also the content of Babylon's cultural activities. And it is the aim of this project.
The biblical confusion of languages in Babylon can be seen as a challenge placed in front of us by God, history, art … so that we learn to co-exist amidst our diversities. To honour and respect others through ourselves and our traditions regardless of origin, status or religion.

Rusíni v České republice
Časopis Babylon zahajuje večerem o Podkarpatské Rusi sérii akcí, které mají přiblížit mladému publiku kulturu a především literaturu rusínské, vietnamské a romské komunity.
Ve čtvrtek 7. října od 19h proběhne v Knihovně Václava Havla první akce z projektu Babylonská věž − večer věnovaný literatuře a kultuře Rusínů v ČR, na které veřejnosti představí své dílo tři autorky s rusínskými kořeny.
Celý projekt vyvrcholí příští rok na podzim Festivalem kultur, na který budou pozváni všichni autoři, kteří v jeho rámci představili svá díla, a kde bude vyhlášen vítěz soutěže o nejlepší povídku/esej na téma "Kdo je Čech".
S básnířkou a pedagožkou Barborou Zavadilovou, spisovatelkou a psycholožkou Irinou Malinovou a textařkou, zpěvačkou a herečkou Janou Šteflíčkovou si dne 7. října v Knihovně VH o jejich díle, vztahu k rusínství a rusínské kultuře bude povídat spisovatel a kulturní redaktor stanice Vltava ČRo Tomáš Pilát.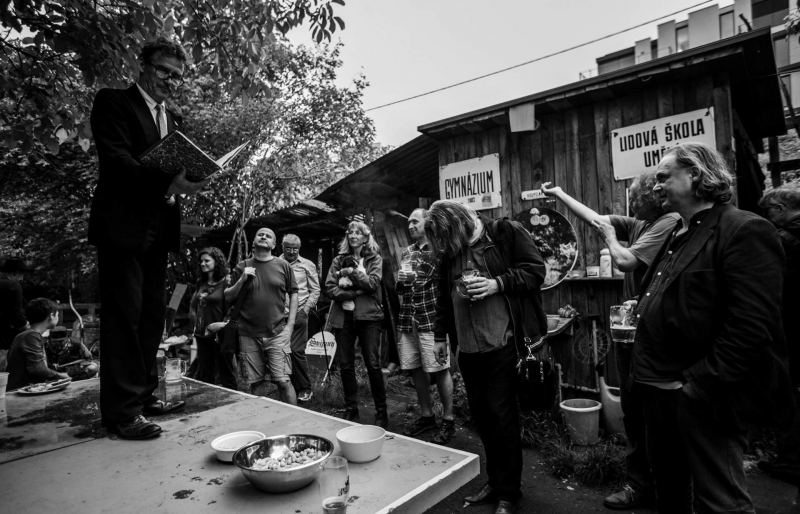 V rámci večera proběhne i diskuse s autory studentských prací, kteří si jako téma vybrali kulturu a historii Podkarpatské Rusi. Anně Termerové, Kateřině Bezdíčkové, Anně Pismak a Veronice Špalkové Kuželové se ne jen na jejich diplomové práce bude ptát Petr Placák, šéfredaktor revue Babylon, která večer spolupořádá s Knihovnou Václava Havla a se Společností přátel Podkarpatské Rusi.
Literární program doprovodí rusínské písně v podání skvělého souboru Skejušan z Chomutova.
Na otázku, kdo je Rusín? odpovídá vedoucí souboru Kateřina Romaňáková: "Mně je to jedno. Jsem hrdá na to, co jsem, a mám ráda všechny lidi."
Akce se koná v rámci projektu Babylonská věž, který je věnován kultuře a literatuře národnostních menšin v České republice a v Norsku. Kromě Rusínů se v rámci festivalu představy autoři z romské a vietnamské komunity, kteří žijí v České republice, a autoři z norské etnické skupiny Sami.
Ve stejný den v 18.30 proběhne v Knihovně Václava Havla tisková konference, na které bude celý projekt představen.
Projekt BABYLONSKÁ VĚŽ – Literatura národnostních menšin v České republice a v Norsku 2021/23 je podpořen z programu kultura EHP a Norských fondů.